Which Puzzle Mobile Games to Play in 2021?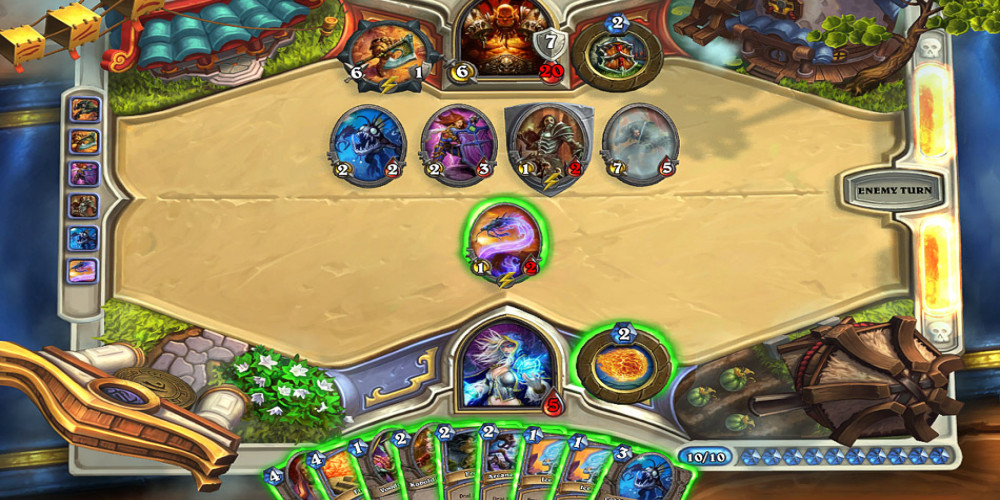 Due to the constant mobile games market development, we get either high-quality applications or the ones you can once launch and delete from your phone. It's quite easy to end up choosing the second kind. The game might be too simple or have no exciting gameplay. However, it doesn't mean only a few mobile games are worthy. Today, I will tell you about the twelve not-so-popular but really awesome apps you can play in 2021.
Hearthstone
Hearthstone is a collectible card game that was designed based on the Warcraft universe. It requires you to think, developing your logic and intuition. Though it's not so challenging at the beginning, you should break a sweat if you want to become a master.
Florence
This is a mini-game that you can complete for less than an hour, but it has a beautiful atmosphere. The main character Florence Yeoh falls in love with the musician Krish. This game develops their story. It's quite short, but the creators managed to combine gorgeous music with deep meaning.
Slay the Spire
Fight monsters and collect new cards in Slay the Spire. This game is unique in its genre because the card combos are quite unpredictable, and you might never repeat them. All three available characters are different. It's thrilling to watch them develop throughout the game.
To the Moon
Getting to the Moon is a wish of the main character Johny who is terminally ill. The task of the two doctors in the game is to understand why exactly he wants it. You use the machine to observe Johnie's memories during all his life. This 2d game is emotional and can be a little sad, but it is also filled with many bright moments and great storytelling.
You Must Build a Boat
In this RPG game, you should build a boat, but it's not that simple. Your character has to fight monsters and go through the obstacles in a dungeon when you put three or more identical tiles together. Therefore, it's more of a puzzle game. Its peculiarity is that you can choose which monsters to fight and even the rewards you will get instead.
Song of Bloom
At first sight, it seems that Song of Bloom has little sense. You see various pictures that change when you do something with the objects on them. Most of them contain some art and cultural messages. One of the main ideas of the game is to find signs to move on and create a story.
The Room
The Room requires you to solve the puzzle boxes. You should be highly observant to find all the clues or quests in this box. There is a limited number of hints which you can use while opening one box. When you get to the core of a box, you move to another one.
Monument Valley 2
In Monument Valley 2, you should create new paths all the time to help one or two characters not to fall from the monuments and buildings. These two players are mother and daughter. The story doesn't have a special meaning; everybody can make their conclusions.
Device 6
When you first launch the Device 6 game, you might think that you could have accidentally downloaded a book. This is what the game looks like. It combines a story about Anna and her adventures and the puzzles you solve while reading.
Ridiculous Fishing
The game probably got its name because you have to catch as many fish as you can, but be careful not to allow it to reach your boat, as all your catches will explode. You also get some money for them. Be attentive and avoid jellyfish.
Mom Hid My Game
For some reason, this woman in Mom Hid My Game doesn't want her son to play a game. She hides it every day, so your task is to find it. Sometimes, it's quite obvious where to search for it, and, at times, it might be really challenging. The game is over when you face mom.
Civilization VI
Civilization is a popular strategy game that gets new features with every version. If you didn't play it before, the game would be an exciting discovery, where you need to build cities, districts, and interact with various civilizations.
Solve Puzzles and Spend Your Time with Interest
Each game from the list is unique, has an exciting story behind it, and might fascinate different age groups. Share this article with your friends on Facebook, Twitter, or Pinterest so that they could find a suitable game for them too.