8 Super Tips On Lightroom Mobile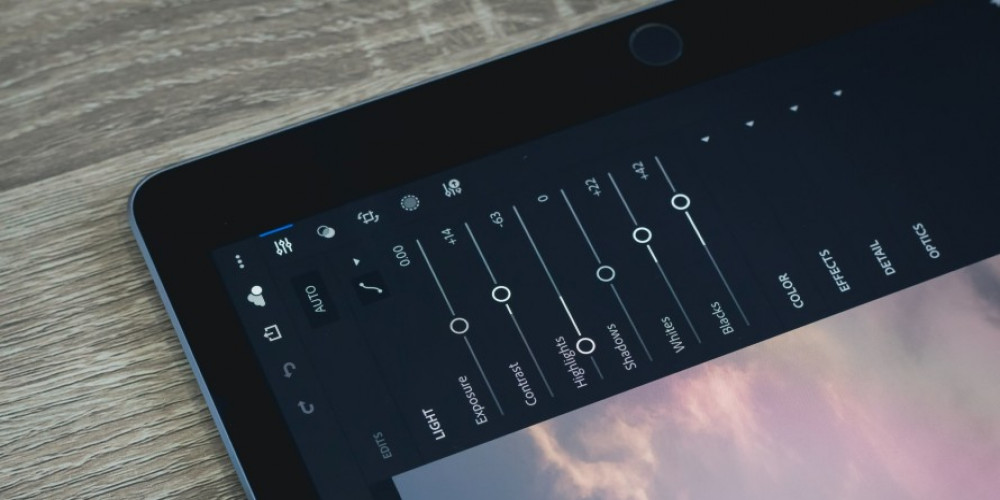 Lightroom Mobile is an easy-to-use photo editing tool released by Adobe — the same studio that gave life to Photoshop. We'll share 8 expert tricks to take your Lightroom Mobile to the next level.
Editing photos now is extremely simple: two clicks, and it's perfect. In Lightroom's case, it's two taps, and there's a crazy amount of stuff you can do with this app to your pics: retouching, adjusting visual parameters, editing, geometry-based fine-tuning, and so on.
We show you Lightroom 8 features to help you enjoy the app even more.
1. Healing
Sometimes a great shot can be ruined with a tiny blemish. Dots, visual noise, red eyes, detail clutters — all this mess can mess up the end result.
The healing tool is here to help. It subtly removes defects and blemishes from the photo. Plus, you can erase unnecessary details from the pic, so it can "breathe" more freely.
2. Import with Siri
Starting with iOS 13 and higher, you can ask Siri to import the RAW data to Lightroom Mobile. Here's how to activate it:
Navigate to Settings.
Select Siri & Search
Open All Shortcuts.
In the upper right corner of the screen, hit the "+" symbol.
Find Get Photos.
Drag the Get Last Import command to the shortcut builder.
Return to commands and find Import Lightroom, or type it in the search bar.
Drag the Import to Lightroom command to the shortcut builder.
And now you're able to recruit Siri's help.
3. HDR
With Lightroom, you can snap high dynamic range photos — all thanks to its built-in camera. As a side perk, you can have your shots saved in the RAW format.
With HDR, you can give your pictures more depth and play with shadow/lighting to stage truly astonishing images.
4. Fine-tuning
Lightroom's selective edits allow you to perfect certain areas of a photo. It has three tools:
Brush Selection. With this tool, you can select a part of a pic to focus on.
Radial Selection. It enables you to tweak the size/dimension of a fragment.
Linear Selection. With it, you can manipulate width and narrowness.
With selective edits, you can give your shots more character and personality.
5. Synchronization
If you have an Adobe account, you can instantly synchronize the shots that you make on the go with your desktop computer. This way, pics will be backed up, and you can delete excess of those from your gizmo.
To activate it:
Open Lightroom on your computer
Click on your name.
Select Sync with Lightroom Mobile.
Later, you can also double back up the pictures using cloud storage. Tip: If you delete by accident a photo that you need, it can be restored within 60 days.
6. Tone Curve
The tone curve is here to help you tweak the color tonality of the image. With it, you can alter the entire mood of the photo: from cheerful to melancholic or serious. What's even cooler, the curve has only three adjustable parameters — pretty intuitive.
7. Pro Mode
By default, Lightroom's camera uses the Auto mode: parameters are already pre-set for you. But if you prefer more freedom, switch to the Pro mode.
Here you can adjust exposure compensation, black/white balance, ISO, and so forth. You will need this mode in case later you plan to switch to the more professional photo-capturing tools.
8. Presets
With a preset, it's easy to make a photo more unique, flamboyant, and interesting with just one tap. Basically, it's a bunch of pre-saved parameters like color tonality or brightness, if you need a quick, yet effective post-processing solution.
To activate it:
Make or load a picture.
Edit the image the way you like with the app's tools.
If you enjoy the result, open the three-dot menu.
Select Create Preset.
Give it a name and save it.
If you make a lot of similar shots — like in the "nature view" genre— you can use the same preset to doctor photos quickly.
Light & Tight
With Lightroom, you can create astounding pic and even masterpieces. It has amazing free features and even better premium options — don't forget to give them a try.